Your Session
Get ready for a relaxed outdoor session, enhanced with a beautiful natural light at a location where your furry bundle of joy can run around and be him/herself
Hi there! Welcome and congrats for thinking about booking a pet photography session for your furry bundle of joy!
I am a Sutherland Shire based photographer and I specialise in creating beautiful, outdoor natural light images and combing them with your dog's unique personality.
My goal is not only to create beautiful images of your dog, but to give you something tangible and tactile which you can proudly display in your home for a lifetime.
When you book with me, our session starts from the moment of our pre-session chat. We will talk about your dog, what he likes to do, training, motivation etc. This way I can make sure your dog is interested and having fun on the shoot. Together we will also discuss location choices and what you want to get out of your photoshoot.
Your pet photography session is all about celebrating your dog and your relationship with him and is 100% customised to fit your dog's personality and the style you are looking for!
The booking process
After you've checked out the pricing & session info and decided to go ahead, your first step is to schedule a chat with me over the phone to discuss some date & locations options.

After our phone call, and to finalise the booking process, I will send you a questionnaire about your pooch, a session agreement, and an invoice for your session fee. A 50% payment of the session fee (100% for mini-shoots) is required to hold your session on my calendar (the remaining balance is to be paid on or before the day of your shoot).

Once we have spoken on the phone, you have completed the questionnaire, and paid the deposit, your booking is confirmed.
You will then receive my session & product guide, which will help you prepare and get ready for your photo session.

How it works
I am an on-location, natural-light photographer, so the shoot itself will take place at a park, beach, forest or urban area. If I am familiar with your area, I can recommend a location that will work well with your dog's temperament, but I can also come to you if you have that special place you and your pup like to go to.

With a landscape photography background, I developed my love for creating images with natural light. This style is what helps me create lifestyle pet images, using natural light and enhancing it with a stunning location and personality. Therefore sessions are scheduled in the late afternoon or early morning and will take anywhere between one to two hours.

A week after your photoshoot, I will invite you to join me at home office studio for your viewing & ordering session. Here you will easily fall in love with the photos and products! Then you can start to narrow down your favourites. This bit can be difficult because there are inevitably SO MANY great photos to choose from – but don't worry – I am here to help! – and there is always tea, coffee and/or sweets available to fuel you 🙂

Important note: All print orders are placed in person at your viewing and ordering session. Prices increase by 20% AFTER the order session date.
Always fun
My sessions usually consist of 2 parts. The first part is more action oriented. This can be anything that your dog like to do whilst outdoors, from playing fetch, tug of war or simply sniffing around and rubbing themselves in something pretty gross.

After that they are usually a lot more relaxed and willing to pose for a portrait or two. I always carry different toys and a good variety of treats to interest your dog with. Having said that, all sessions are customised to fit your dog's personality and age. During your photoshoot we can work together with your dog off or on leash depending on your preference and your dogs ability.
BOOK NOW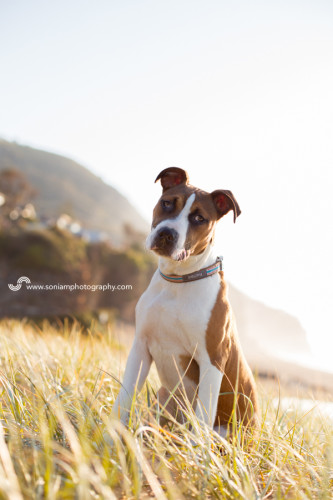 ---
What others have been saying about their sessions...
Sonia – love the photo's. You have definitely captured her personality. Mild mannered on the outside but there is a rascal within. Aurora had a great day with you exploring the streets Newton & was at ease with you from the start. Thanks for a great day & for capturing memories that we can treasure for ever.

Jasna
& Aurora
Sonia you have captured her just beautifully. I love all the pictures and could never choose just one to get printed, it's going to be a hard choice. The one in the clover made me laugh so much. Thank you again, we had alot of fun

Shanelle
& Kadie
Thank you do much Sonia. I looove my pics of Kovu! Something very special to have. Highly recommend Sonia.

Kristen
& Kovu
It is evident in your work how passionate you are not only about your photography and also your subjects and the importance you place in helping them capture their special moments. Your attention to detail is second to none and not only do you provide great customer service but you add those special touches to the finished product that personalises the whole package. It was our chance meeting on the beach which has now given me some amazing and professional photos of myself and my puppy. Thank you for your amazing work

Vicki
& Noah
Thank you for a fun session - you were so so patient with Biscuit and it wasn't an easy shoot with her constantly begging people for a cuddle and the distraction of other doggies on her first official day out!

Linda
& Biscuit
Firstly, thank you so much for photographing Baxter. It was such a fun experience, start to finish. You have captured some amazing photos of him and we couldn't be more thankful. We all had such a great time during the photoshoot. You came prepared with all the right things - squeaky toys, peanut butter, etc. Which certainly made all the difference in keeping Baxter's attention! It was a totally relaxed experience and we will definitely be getting some more photos from you in the future!

Candace
& Baxter